[Title]
[text TOC]
[image TOC]
[Site Search]

[Donation]
| | Wilderness Survival Kit | |
| --- | --- | --- |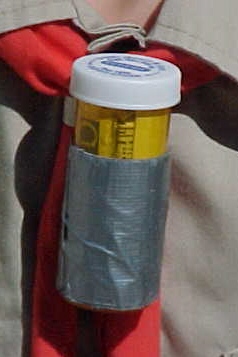 Materials
Tools
Film Canister
Items from list below
PVC Ring
Hot Glue
See the Film Canister Chapter for more instructions, hints, tips, and ideas.
Survival in the wilderness does not depend so much on what you have, but on your knowledge and ability to use what you have. A survival kit should contain those items that are difficult to obtain from nature. Don't just make a survival kit, know wilderness survival techniques and practice them frequently. The Boy Scout merit badge book on wilderness survival is a great resource. There are also many other books and Internet sites that cover the topic.
For this project, you can use a film canister, but you might want to use something a little larger like a prescription bottle, candy container, or other waterproof plastic bottle. Metal tins cans with tight lids are also very good and can be used as a container in which water can be boiled. The shiny lid can be used as a signaling device. You want a container that is small enough that you will always carry it and without sharp corners that could poke you. It's a great challenge trying to see how many items you can stuff into a small container.
Especially useful are items that have more than one use. For example, duct tape can be used to repair clothing, for a blister, as a band-aid, or make a cup. The list is almost endless.
Some things you might consider putting in your survival kit:
First-Aid - Band-Aids, gauze pads, tape, butterfly strips, moleskin, Betadine™ or Neosporin™, safety pins, aspirin/Tylenol™, bandana
Shelter - Large plastic bag, space or emergency bag/blanket, or poncho
Large plastic bag - wind breaker, rain coat, or sleeping bag (add leaves for insulation)
Small plastic bags - Carry food or water, rain hat, insulate head, hands, feet
Signaling - Matches, magnesium/flint sparker, candle, tinder, wax paper, cotton ball with Vaseline, dryer lint, aluminum foil (as mirror), whistle, bandana, flashlight
Water - Chlorine/pills, plastic bags, heavy aluminum foil (make into cup for boiling water, cooking food) or metal can
Food - fishing line, hooks, sinkers; snare
Knife or saw
2 quarters - in case you find a telephone
String, artificial sinew, or parachute chord - shelter, repairs
Duct tape - first aid, repairs
Plastic tie wraps - repairs
Paper and pencil - messages, notes, plans
Survival manual
Wilderness medicine manual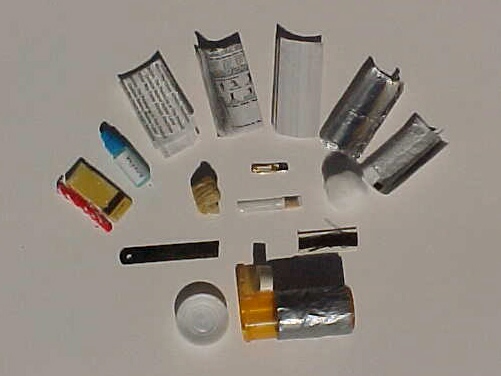 Items in my kit:
3 Band-Aids - for cuts and abrasions
3' Duct tape (around outside of bottle) - repairs or first aid bandages
3 Safety pins - repairs, fishhooks
Tylenol™ - for fever or pain
Matches and candle - fire starting
Whistle (made from a straw) - for signaling
12"x12" Aluminum foil - signaling, make a cup for boiling water
12' artificial sinew (string) - repair, making shelter
Saw - made from end of used hacksaw blade
Cotton - first aid, fire starting
Needle and thread - repairs, compass1
Survival Manual
1To magnetize a needle, slowly drag the needle completely over a powerful magnet. Do this several times always in the same direction. Tie a thread around the middle of the needle so that it balances. Be sure the point of the needle points North, otherwise re-magnetize the needle dragging it in the opposite direction. Work with the needle compass before hand indoors where you know which direction is north. Using the needle compass can be tricky because the twisting of the thread can give you a false reading. A more stable and accurate compass can be made from a paper clip.
The serious kit that I carry, especially when backpacking contains:
3' Duct tape
Lighter
Whistle
Knife
12' of artificial sinew
Button size compass
12"x12" Aluminum foil
Quart zip lock bag
And because the kit had a little extra room and they fit nicely - a candle, needle and thread, 2 safety pins, and fishing hook, line, and sinker.
It all fits in a round candy tin about 2.5 inches in diameter and 1 inch thick. I also carry along with it either a very large plastic bag, a disposable poncho, or a space blanket. When the temperature might get below 60 degrees, I carry both a poncho and a space bag (not just a blanket).
You might also be interested in the Fun Cooking and Fire Starting Kit web pages.


Copyright © 2001 Vince Hale