[Title]
[text TOC]
[image TOC]
[Site Search]

[Donation]
| | Flapping Owl | |
| --- | --- | --- |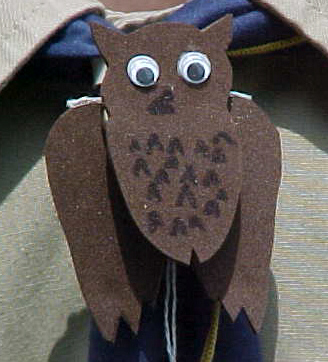 &nbsp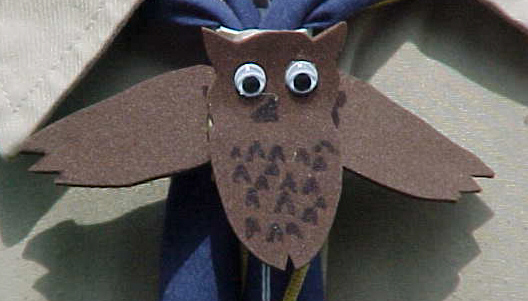 Materials
Tools
Craft Foam or leather
2 Brass fasteners (1/2")
2 Nuts (3/16")
Pony bead
2 Wobble eyes (1/4" or 7 mm)
2' string
Wood block 1/4"x3/8"x1/2"
PVC ring
Scissors
Permanent Marker
Hole punch
E-6000™ glue
See the Moving Chapter for more instructions, hints, tips, and ideas.
This one can be a little tricky. You may have to experiment a little to get the placement of the string and holes in the wings just right. Refer to the illustration below for placement of the parts.
You can use either craft foam or leather. Craft foam is easier to cut for younger crafters.
Use a smaller diameter PVC ring to hold it on tight. See this page for more hints on Keeping Slides On.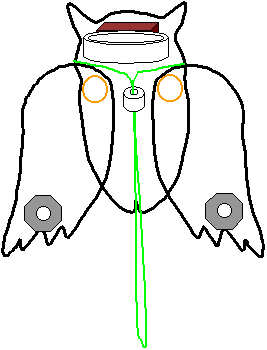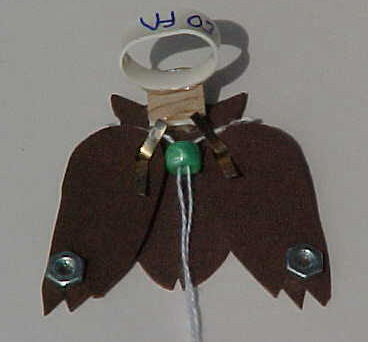 Cut the wings and body from a piece of brown craft foam, using the template below.
Using E-6000™ glue the brass fasteners, pony bead, wooden block, and PVC ring to the back of the body as shown above. Put the wooden block and PVC ring high on the head. This will keep the ring and neckerchief from interfering with the movement of the wings.
Punch holes in wings for fasteners.
Using E-6000™ glue the ends of the string to the top edge of the foam
Using E-6000™ glue the nuts to the ends of the wings.
Let glue dry.
Trim excess string from the top of the wings.
Put the wings on the brass fasteners. If the fasteners' legs are too long, clip them off using wire cutters. Place the scissors on top of the wing like you were going to cut the brass fastener. Now bend the legs of the fastener over. This will give a little room so the wing moves more freely.
Run string through pony bead.
Using E-6000™ glue the wobble eyes on the head.
Draw in the feathers and beak.
If you have trouble getting the wings to move up and down freely, here are some steps that will help:
I found that the best position for the fasteners' leg is as pictured in the photo above. The legs should not be pressed against the wing, but bent slightly away from the wing.
Make sure the wings are not rubbing on the bead or PVC ring. Trim the wings back a bit, if necessary.
At the point where you bent the brass fasteners' legs over the wing, make sure the two legs are squeezed close together, not spread apart.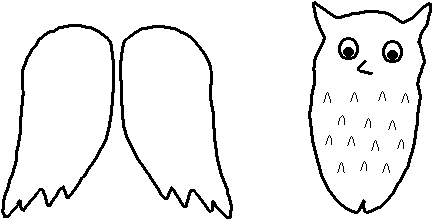 You can also use a 3/8" flat head bolt and nut instead of the brass fasteners. See Running Antelope to see how this is done.
Not quite ready for something this complicated? Then try just a plain Leather Owl.


Copyright © 2003 Vincent Hale